The iBIO STEMfamily Virtual Summer Camp is a free virtual camp offering hands-on experiments designed for the whole family to enjoy and investigate. The first camp was held on June 22-26, 2020.
Over 500 kids from 27 states  (Alabama, Arizona, Arkansas, California, Colorado, Florida, Illinois, Indiana, Kansas, Maryland, Massachusetts, Michigan, Missouri, Nebraska, Nevada, New York, North Carolina, Ohio, Oklahoma, Oregon, Pennsylvania, Tennessee, Texas, Utah, Virginia, Washington and Wisconsin) joined us for our first STEMfamily Summer Camp.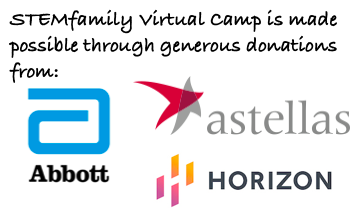 How families interacted with STEMfamily Camp:
Cognizant that we would have families with a broad range of backgrounds, schedules and time constraints as well as experience and confidence with STEM topics, we created a variety of ways for families to access activities and interact with camp
STEMfamily Website

67%

67%

Facebook Group

70%

70%

Google Meet

15%

15%

Dowloaded Daily Activity Handout

63%

63%

Watched Instructional Videos

70%

70%

Email

25%

25%

None of the Above

2%

2%
We examined success through daily surveys and a post-camp survey. A detailed report by independent evaluator, Goshen Education, is expected later this month but raw data show camp was a big success. 96.5% of families reported they would participate in STEMfamily virtual camp next year. 81% of families agreed or strongly agreed they would participate in STEMfamily again next summer even if no restrictions on gatherings are in place.
"This camp was absolutely excellent. My daughter was excited to get started each day and couldn't wait to talk about her experiences each night at dinner. As a parent, it is exciting to see my child on fire for science! Thank you for making all of the restrictions and stress of the current environment melt away so that she could enjoy learning again. This has been such a wonderful experience – thank you!"
"Lots of fun! Your team did an excellent job making a virtual camp engaging and flexible"
"The morning FB lives with Kathy Marion was really helpful. Being able to see the questions and post of the other families was also helpful because we had the same questions. The GoogleMeet support was also helpful. The support around the virtual camps was exceptional. And I was really impressed especially considering the short time the team would've have to pivot the camp from in person to virtual due to COVID. Thank you for not canceling the camp."
"Thank you for the opportunity! It was great to have the whole family participate and learn together. It must have been a lot of work to create such an organized experience!"
"Amazing people to learn from. The kids enjoyed every activity. They loved the most that they can do it all from their home. Continue to these camps. They're super educational for the whole family and adds to family activities which are always fun. Loved that this was suitable for all ages. Being provided the materials was my favorite part of this. We wouldn't have been able to participate without the supplies given. Thank you so much!"
"My family really enjoyed this camp. From the Investigation Instructions, the journels, to all the materials needed to complete the experiments, this was a well organized program. The Facebook Live meetings in the morning helped create a sense of connection with others during our time isolation. Thank you for providing an avenue of fun learning for all the kids and families this summer."
"The video instructions were Awesome! The Facebook interactions were great; I appreciated that the iBIO team responded to every post of every camper. My daughter keep busy throughout the day with the activities and beyond. However, the face-to-face social interaction with kids and camp leaders was sorely missed. We hope that restrictions will be lifted by next summer. That being said our family really enjoyed camp and appreciate the well organized efforts of the leaders. We also appreciated, greatly, the professionalism and personability of the camp leaders: Awesome Group!!!"