The iBIO iCON Awards recognize the vital roles that education, research and civic leadership play in fostering growth within the life sciences community. Each year, the iBIO hosts the iCON Awards Dinner to celebrate breakthrough achievements of teachers, researchers, entrepreneurs and civic leaders whose hard work and dedication inspire us all.
Held at the beautiful Chicago Botanic Garden, the evening brings together some of Illinois' top life sciences professionals and innovators to help the iBIO realize its goal of creating a globally recognized life sciences center in Chicago and the surrounding Midwest region.
We promise a wonderful and memorable evening featuring a VIP reception, cocktail hour, net-working, multiple dinner stations, award ceremony and raffle awards.
The iCON awards supports the mission of the iBIO Institute, a 501(c)3 Public Charity, which orchestrates business leadership in delivery of world-class educational after-school programs and summer STEM camps for girls grades 3-8 in underserved Illinois schools.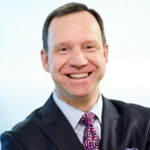 Paul Edick, Chairman & CEO, Xeris Pharmaceuticals
2019 iCON Entrepreneurial Award
Biography
Mr. Edick joined Xeris Pharmaceuticals as Chairman and Chief Executive Officer in January 2017. Prior to joining Xeris, Edick was a Founding Partner of 3G Advisors, a consultancy to the pharmaceutical, healthcare and healthcare investor communities. In addition, Mr. Edick served as the Chief Executive Officer of Durata Therapeutics from 2010-2014 and has held the post of CEO at a number of other pharmaceutical companies, including Ganic Pharmaceuticals and MedPointe Healthcare, Inc. Mr. Edick currently serves as the Chairman of the Board of Milestone Pharmaceuticals Inc. Mr. Edick has also previously served on a number of pharmaceutical and healthcare company boards, including Interim Therapeutics, PDL, BioPharma, Neos Therapeutics, NewLink Genetics Inc., Circassia Pharmaceuticals plc, Sucampo Pharmaceuticals, Amerita Inc., and Informed Medical Communications.
Dr. Martin D. Burke, University of Illinois
2019 iCON Innovator Award
Biography
Marty Burke completed his undergraduate degree in chemistry from Johns Hopkins University, an MD from Harvard Medical School and MIT, and a PhD in chemistry from Harvard University. He is now a Professor in the Department of Chemistry at UIUC and Associate Dean for Research at the Carle Illinois College of Medicine. Marty's group has pioneered the field of molecular prosthetics and the development of an automated Lego-like platform for democratizing small molecule synthesis. His research in molecular prosthetics has identified small molecules that can replicate the functions of the iron transporting protein ferroportin and anion channel CFTR and thereby restore physiology in cells and animals, and clinical trials to test this approach in people have recently begun. His Lego-like synthesis platform has yielded hundreds of commercially-available MIDA boronatebuilding blocks that are now enabling the more effective synthesis of small molecules in many different academic and industrial groups throughout the world, and his group recently reported a machine that can make a wide range of different small molecules automatically.  This technology is now being leveraged at the new Molecule Maker Lab that Marty co-founded at the Beckman Institute at Illinois, part of the Health Maker Lab initiative that Marty co-created to democratize healthinnovation. Marty is the recipient of a number of honors and awards, the Thieme IUPAC Prize in Synthetic Organic Chemistry, the Hirata Memorial Gold Medal from Japan, the American Chemical Society KavliFoundation Emerging Leader in Chemistry Lecturer, the American Chemical Society Elias J. Corey Award for Outstanding Original Contribution in Organic Synthesis by a Young Investigator, and the American Chemical Society Arthur C. Cope Scholar Award. He has also received the Nobel Laureate Signature Award for Graduate Education in Chemistry from the American Chemical Society and been recognized many times for teaching excellence at both the undergraduate and graduate levels. Marty is also a Founder of four biotechnology companies: REVOLUTION Medicines, Ambys Medicines, SfungaTherapeutics, and cystetic Medicines.
Rebecca Voight, Cooke Magnet Elementary School, IL
2019 iCON Knowledge Builder Award
Biography
Rebecca Voight is a teacher at the Andrew Magnet Elementary School in Waukegan Illinois where Ms Voight is a member of the Instructional Leadership Team and has led the school's engagement with the STEMGirls Camp program for the past three years.
THANK YOU FOR YOUR CONTINUED SUPPORT
The iCON Awards Dinner have been supported by our community's leading organizations