Welcome to the STEMfamily Camp website! We are excited to spend this week exploring topics including food science/nutrition, electrical engineering, agriculture, polymer science, bioengineering and
chemistry.
This page will act as camp central, you can access daily activities, additional content and see how other families are exploring STEM together.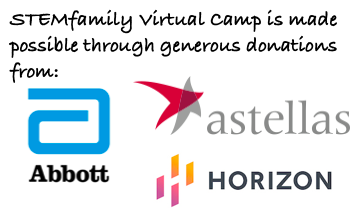 Connect to our Facebook page for more interactive content
Interested in learning more about careers in science, technology, engineering, and math?
Employees from our supporting companies are sharing short videos about their personal STEM journeys and how they use stem in their current jobs.